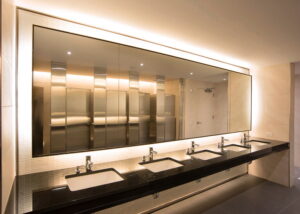 If you've ever thought about how important having access to hot water is in your home, just think about how important it is in a business. That's because by law, businesses must provide hot water for safety and hygienic purposes.
If you own a commercial property such as an office building, a restaurant, a hotel, or an apartment complex, hot water is absolutely necessary not just for your tenants' comfort, but for hygiene.
Commercial water heater maintenance is essential for every property, no matter how large or small. Don't leave the functioning of your commercial hot water heater to chance. It's always a good idea to have a professional team provide commercial water heater maintenance on a regular basis to ensure your building has access to hot water.
Here are 4 major benefits of routine commercial water heater maintenance.
#1. Increase the System's Efficiency
It's no surprise to any business owner who's had to pay a utility bill just how much energy commercial water heaters use. Maintenance is the best way to ensure the system is running efficiently. In fact, the longer a water heater goes without maintenance, the more inefficient it's going to run.
An inefficient commercial water heater will without a doubt raise your energy or fuel bills, causing you to throw money away unnecessarily. Routine maintenance will just about pay for itself when it comes to the efficiency of your commercial water heater.
#2. Increase the System's Lifespan
Commercial water heater replacements are not only costly, but they can also be incredibly inconvenient to schedule. It means your customers, tenants, and employees will have to be without water for as long as the replacement takes.
A commercial water heater that receives regular maintenance will last longer than one that doesn't. If you've ever had to replace a water heater sooner than you expected to, you've got a much bigger problem on your hands.
Commercial water heaters are built to last 10-12 years when they're properly sized and installed–AND when they receive regular, professional maintenance. Schedule yearly maintenance with our team so that your commercial water heater will enjoy the longest lifespan possible.
#3. Helps Eliminate Volume Issues
When sediment builds up in a commercial water heater, the volume of available hot water is reduced. This can be an issue for your customers, employees, or building tenants because they receive perpetually less water than they need. If you've received a complaint about hot water volume and availability, it could be a sediment issue.
When we flush the system during a commercial water heater flush, it'll maximize the amount of hot water that comes from your system. You'll be able to eliminate the complaints from the people in your business or building by having this issue taken care of with maintenance.
#4. Reduces the Need for Minor Repairs
Perhaps the most important benefit that comes from commercial water heater maintenance is the fact that it's an opportunity for one of our service professionals to get a jump on any potential issues. They'll perform minor repairs that'll keep your system running well. This preventative maintenance can reduce the need for costly repairs down the line.
Contact HM Plumbing today to schedule commercial water heater maintenance in Atlanta, GA. Serving with Integrity.